Speaking of Retro-Style music, it is pretty obvious to get nostalgic about 80's music, which created more than dozens of pop stars of those times. The unbeatable vibes, heart-wrenching bass, and melodious music were all you needed to listen to match the mighty 80s old-school vibes. True to the facts, boomboxes were one of the coolest things during those old golden days. To feel that palpitations of sensational music in your veins, BOOMBOXES was the only medium to make you feel energetic. If you're a true fan of boomboxes and still have that quest to experience those old golden days, we have integrated the list of the top 10 best boomboxes in 2022 for you!
---
Top 10 Best BoomBoxes In 2022
---
We all know that boomboxes were the coolest possible invention ever in the audiophile world, giving it a whole new vibe for music lovers. People tend to listen to music through boomboxes by inserting music CDs or Cassettes and AM/FM radio. But nowadays, boomboxes are equipped with an Audio jack, AUX cables, and Bluetooth functions, along with old-school cassette players, CD players, and radios. Hence new boombox models from several companies offer different features and aspects like audio quality, form factor, and compatibility.  
Boomboxes used to be small suitcase-sized, easy to carry wherever you want, either to a party place, swimming pool or bedroom. Even in your spare time, you can enjoy your music privately with the availability of a 3.5mm jack. Well, these boomboxes are super portable and offer the best quality sound.
Now let's breach the list for a better understanding of the top 10 best boomboxes. 
---
1. JBL Boombox
---
Party peekers will not allow any boombox other than JBL Boombox to hold first place in the list. JBL has integrated this boombox with 4 active transducers and 2 bass radiators which will disturb your neighbours.

This boombox will surely make your home party club at night, while in the daytime, you would definitely want to take it out for a long drive and beach parties. With an IPX7 waterproof rating, you can play it around beaches or swimming pools because a party isn't a party without music. 
Well, do not worry when its 24 hours playback promise dies, you can still hold on to your music with its in-built power bank that allows you to charge it anywhere and anytime. This wireless boombox can seemingly connect with a Bluetooth device for nonstop and uninterrupted bass effects.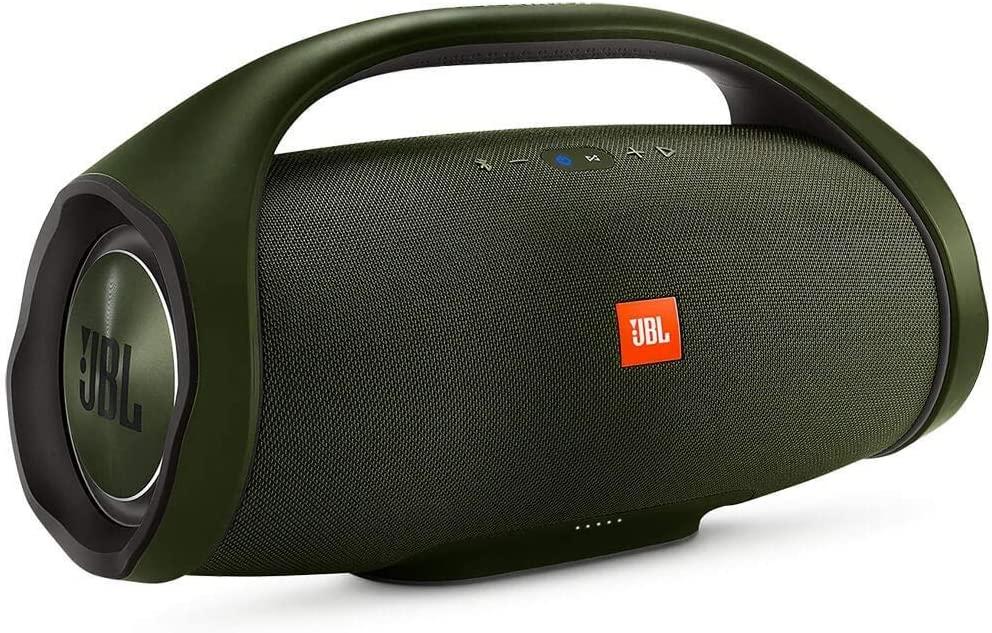 Features
Wireless Bluetooth with JBL connect+

Running capacity of 24 hours 

IPX7 waterproof 

60 RMS speakers
Pros 
Waterproof 

Monstrous base 

Portable and handy

Built-in power bank
Cons
---
2. Sharp GX-BT9X
---
This massive machine-like boombox comes with impressive specifications which can overrun several embedded features in another boombox in the same range. It has a Built-in NFC tag, and a woofer side firing LED that enables its user to know which songs are currently playing. 
GX-BT9X is Bluetooth enabled, which helps you to connect easily even if you are at a distance. Its Bluetooth service is compatible with both apple and android devices. At the same time, it enables multiple input options and a USB port, like a USB input Guitar jack mic terminal with individual level controls and audio support. This feature is unique, having the upper hand in case you need to spill music in a large area. 
Well, this is not all; you get the bass boosted with Bass X optimization, which gives crystal clear music sensations while distilling out any kind of distortions. It is apt to spill high-performance sound with 100W RMS. This boombox is robust with durable build quality. It is integrated with one year warranty.

Features
Bass X support

Built-in NFC tag

Dimensions –

29.5 x 11 x 10.8 inches

100W RMS
Pros
Bluetooth connectivity 

USB Support

Multiple input options

Guitar jack mic terminal 
Cons
Lacks waterproof characteristics
---
3. PHILIPS Bluetooth Boombox
---
When PHILIPS is on the note, no one can deny that it is an inventor and true godfather of boom boxes. It is a highly trusted brand in manufacturing when it comes to boom boxes. This beautiful, sleek and stylish boombox will accentuate your house's décor fabulously. 
Incredible in sound quality, highly portable, and futuristic designs are all that matter when you place them before your guests. Start the party with an excellent amplified audio system that oozes out the crisp sound with 50W RMS, offering a manual and digital console to play different tracks at your will. 
Favourable for party seekers as its speaker lights generate a party mood to get your things going. Along with dynamic lights, it has a dynamic bass system, too, to give proper chill and thrill.  Well, it allows you to play your soundtracks through Bluetooth connectivity, AUX, and USB. It is even optimized to play CD's/CD-R/RW. 
This boombox is rugged and portable too for you to carry them around easily.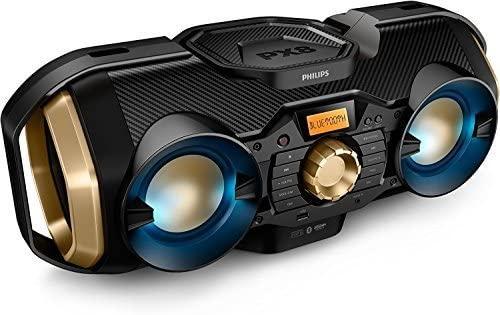 Features
Incredible sound quality

Lightweight and portable 

Dynamic light-up boosted bass
Pros 
Rugged 

Portable 

Wireless radio 

Dynamic bass 

Digital display 
Cons
---
4. SONY Stereo Boombox
---
The design of the boombox from Sony will make you feel nostalgic about former boomboxes' designs. Resembling its predecessor's charm but with a modernistic approach, it is made to give the retro-type feeling of the 80s decade.  
Featuring 1.7W dual speakers, which produce awesome bass to listeners along with manual button support. Similar to the traditional approach, what you seek in a boombox is exactly fulfilled with CD-R/RW, Cassettes, and MP3 CDs, letting you experience those old golden days. 
If your concern is its battery backup, do not worry; it runs on six C batteries that deliver 19 hours of non-stop backup. This directly connects your boombox with an AC cable to a power outlet for uninterrupted music. It offers an FM/AM tuner with digital tuning and 30-station presets. In order to run it for the maximum time, you can connect it to AC and battery power with up to 19hrs of battery life. If you cannot listen to your favourite music, then Aux audio input lets you connect to a digital music player.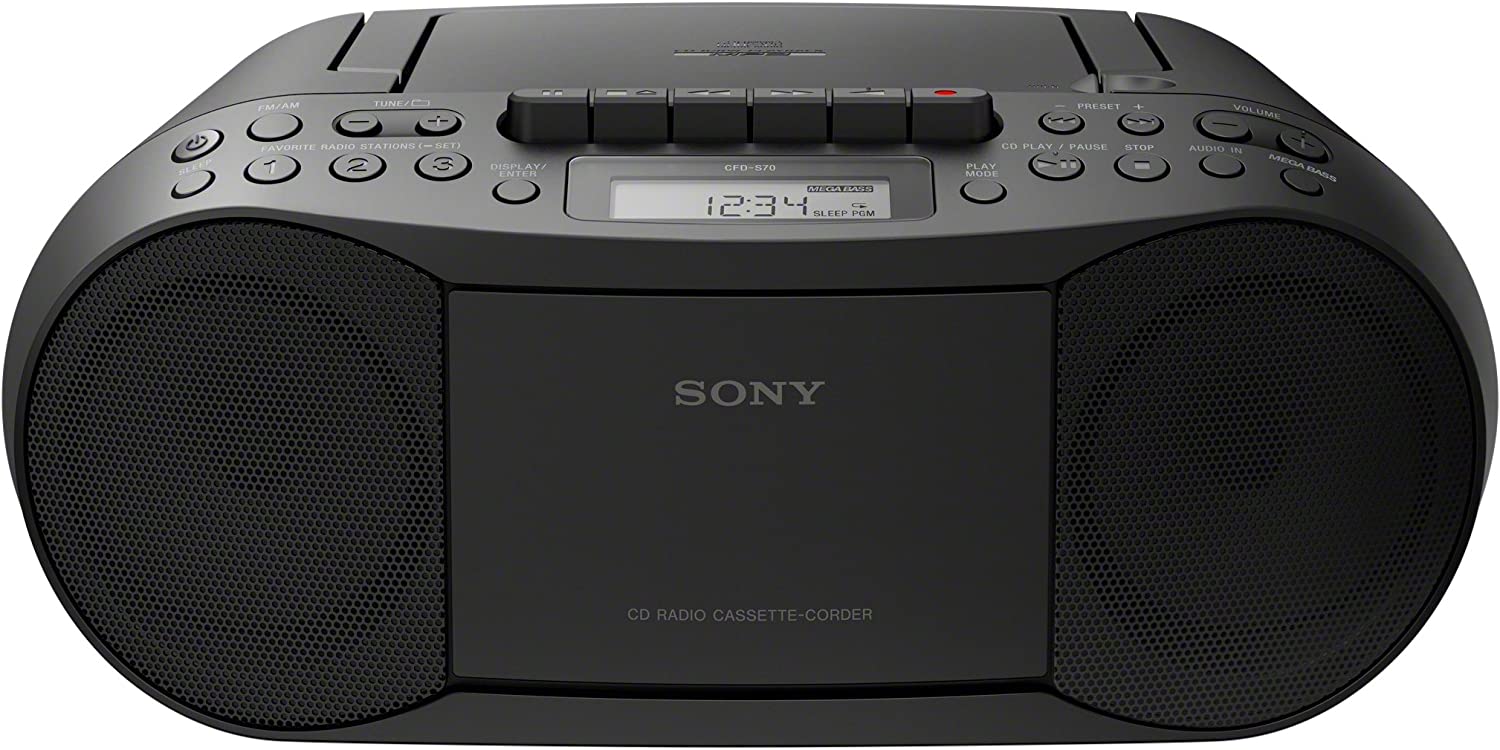 Features
Supports CD, Cassette, and radio play system 

Dimensions –

13.68 x 6.12 x 9 inches

Weight is 5.1 pounds

Playback CDs, MP3 CDs and CD-R/RW 

AC and battery power features that last up to 19 hours 
Pros
Mega bass

Good at low-frequency bass

Portable and easy to use 
Cons 
---
5. Jensen CD-555
---
Next on the list is a cuboid-shaped boombox from Jensen loaded with multiple functions and features that will surely attract you at one sight. Until now, this boombox is the cheapest of all boomboxes, offering many features that can lure customers towards it. Now enough of its praising words; let's see what it has for its customers!
It has a top-loading CD Player CD-R/RW and is compatible enough to support A2DP and AVRCP. Most people with IOS and Android phones suffer to connect their phones wirelessly to any audiophile accessories but not in the case of Jensen boombox. It has Bluetooth wireless versions that support all the latest Bluetooth devices. 
Even though it showcases old architectural designs but has a blue LED CD track display with all button enclosures. Like I mentioned before, it is available for less money and has so many features. Adding to that, it supports an auxiliary inputs jack that will allow you to connect iPod and MP3 devices easily. Along with that, you can also be able to connect your Digital Audio players while you can carry them through their handlebar. Alongside the bass-boosted headphone jack, this boombox is induced with a programmable memory Fm stereo receiver. All in all, it's worth buying a boombox making a whole lot more than anyone can expect.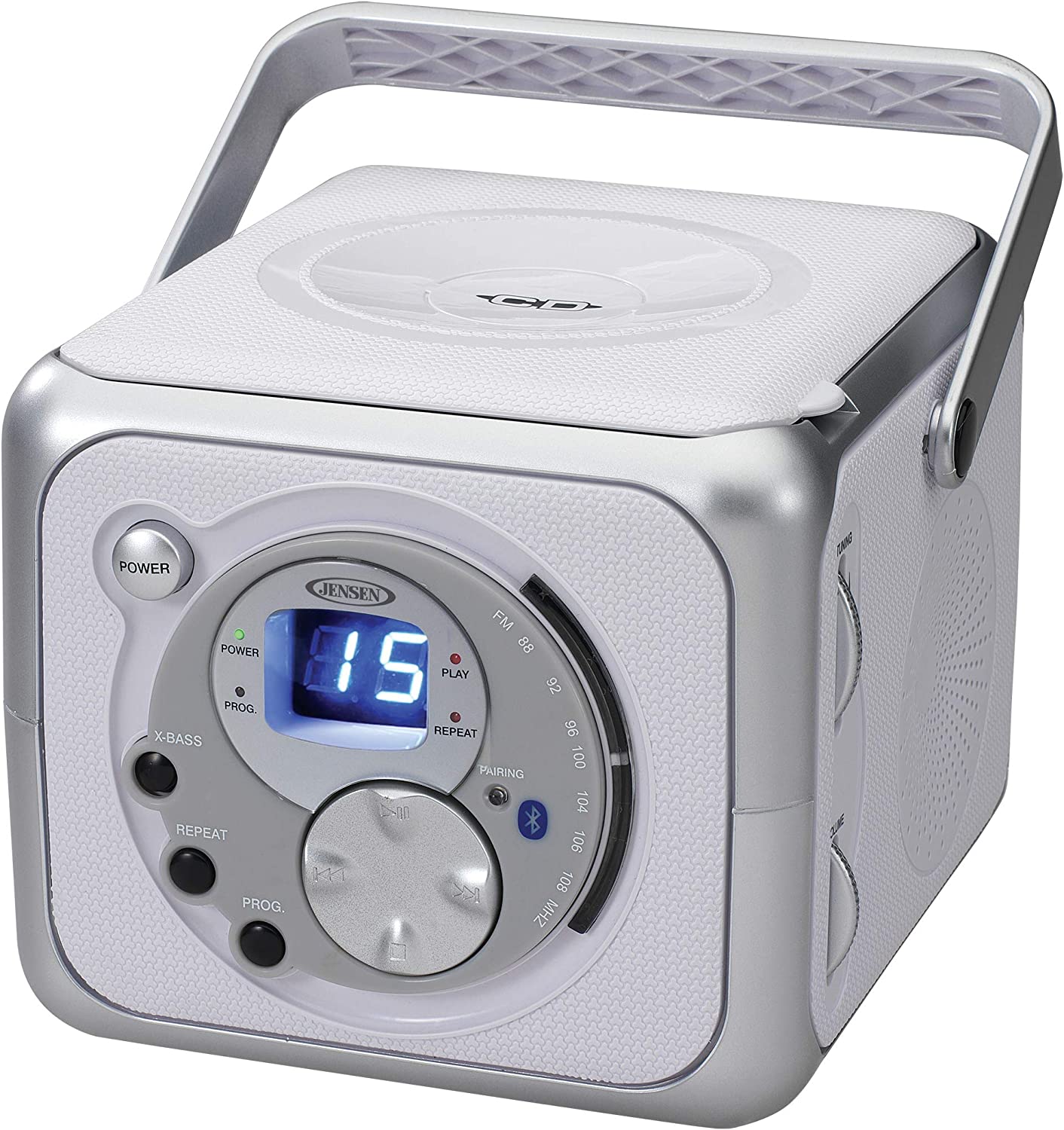 Features
Dimensions –

7.1 x 6.1 x 10.2 inches

Weight 2.3 pounds 

Speaker type stereo
Pros 
Bass X boosted

CD Player +CD-R/RW & FM Radio 

Aux-in & Headphone Jack 

Portable 

Multiple inputs 

Super affordable 
Cons
lacking waterproofing 

1 C battery required 
---
6. Tenmiya Portable Bluetooth Speakers
---
Nothing but boomboxes with colourful lights are the best to give your party an exciting atmosphere suitable for party seekers. The boombox speaker has been accustomed to EQ sound effects which you can set up manually depending upon the listener's taste. The Bluetooth speaker has been optimised with a 4000 mAh rechargeable lithium battery. You can play your favourite music straight for 10 hours in one full charge. The speaker is suspended with handles and a shoulder strap so that you may take the boombox where ever you want. Experience the clear, rich sound that gives goosebumps to you. 
They are designed to deliver load stereo sound with a 30W three-speaker configuration. Hence, it offers its users a powerful stereo system and a passive subwoofer that is accustomed to producing fantastic bass even at low-pitch frequencies. Infusion of 4.2 Bluetooth chip makes your work easy to connect with smartphones, cell phones, tablets, PCs, and laptops. For non-Bluetooth devices 3.5 mm jack is available.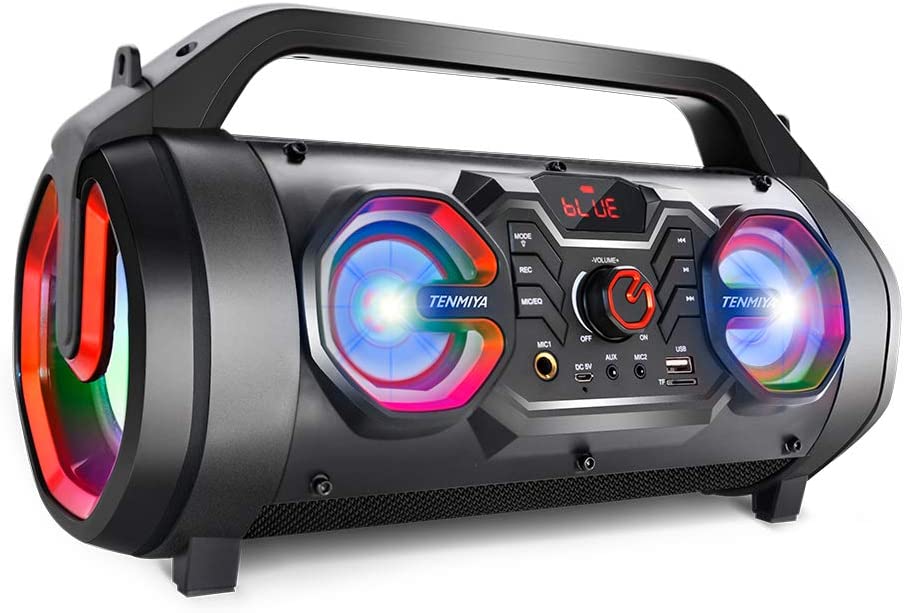 Features
Speaker maximum output power is 30W

Equipped with remote control 

4000 mAh rechargeable lithium-ion battery 
Pros
3.5 mm audio jack

10 hours of playtime 

Wired connection Pc and TV
Cons 
---
7. Jensen CD-575
---
If you are fond of Jensen audiophile devices, then the CD series is best for you to hang on to. Naming CD-575 is slightly more expensive than 555, but in return, it offers its customers in-built rechargeable batteries, which you can charge when you run out of battery capacity. 
It is a top-loading CD./MP3 CD player and is CD-R/RW compatible too. This boombox has been favoured with a multi-function LED display which enables you to see through which song is playing, the singer's name, and the volume level.  
Figuring all multi-functions in one boombox, which is supported by Auxiliary inputs, radio functioning in AM/FM, and USB input too. Overall, it is a great CD player with its unique colour incarnations and typical design. The handlebar is portable and runs above the display side, extending to sleek face-lift endings, giving it a modern age look.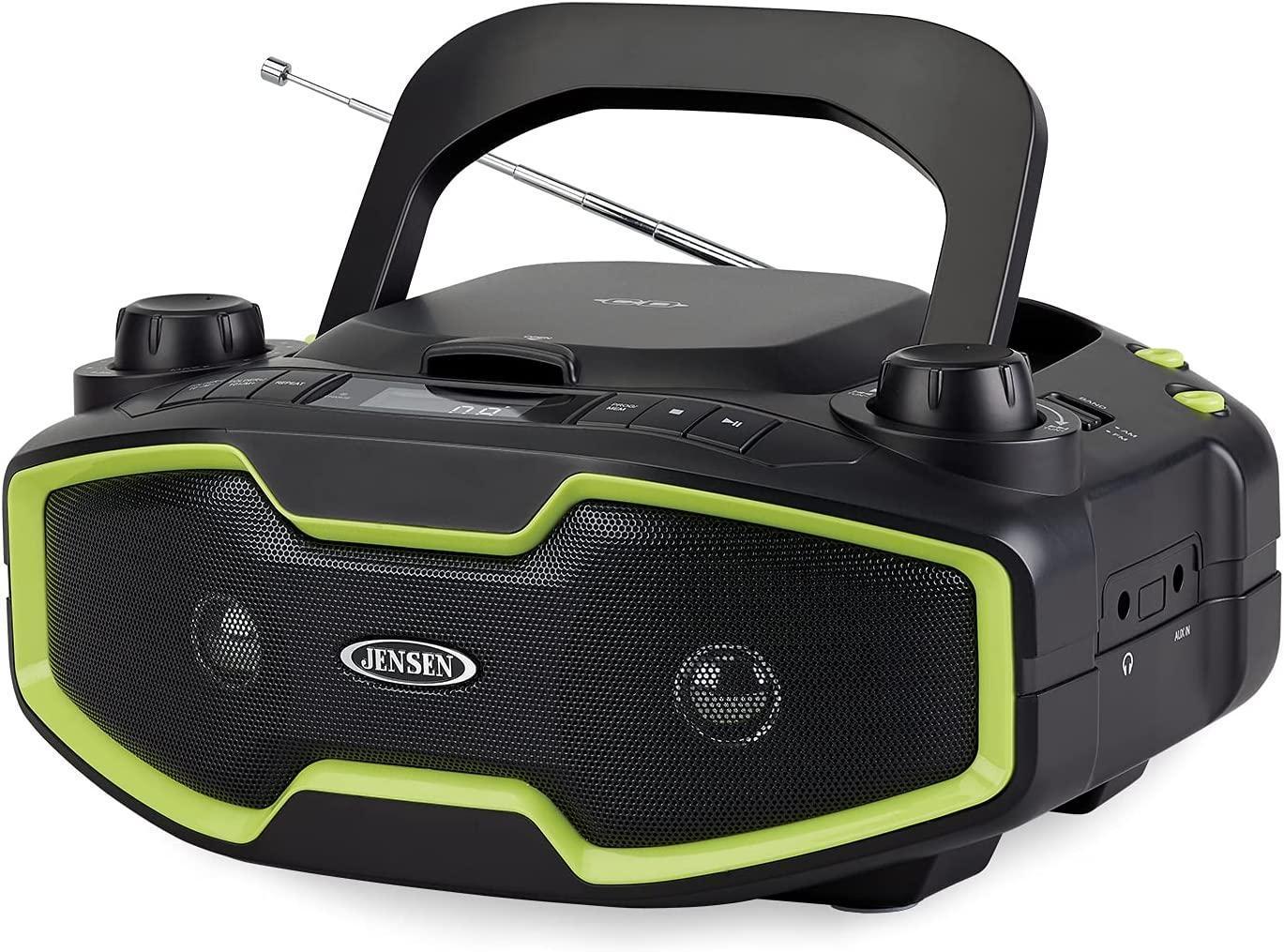 Features
Item dimensions –

30 x 26.2 x 14.2 Centimetres

weight is 4.3 pounds

Programmable memory

Auxiliary input jack to connect iPod and Mp3

Rotary telescopic antenna 

In-built rechargeable battery 

AM/FM Stereo Receiver (20AM + 20FM) pre-sets
Pros
Multiple inputs

Sensational loudspeakers

Wireless boombox
Cons
---
8. SINGING WOOD 030C portable CD player
---
This boombox gives you an old-school boombox saga feel, but a fresh glossy texture finish makes it way ahead of that league. At the front of this boombox, you will notice a circular LED CD track display screen to visualize ongoing song details. 
Furthermore, a Top loading CD player has been given at the top of the slot, which is compatible with CD-R, CD-RW, and MP3. A programmable memory has also been allotted so you can easily rewind, play, pause or stop from a distance. 
One factor that is beneficial as good trouble simultaneously is its AC power cord and 6 C batteries. Both are infused in this boombox and allow you to play songs anywhere, whether indoor or outdoor. But the root cause is that when you switch to an AC Power cord, you must remove batteries from the boombox. Another feature that its users will cherish is the availability of a Type-C port. 
On the contrary, this boombox also supports analog tuning of AM/FM radio and telescopic antenna, Auxiliary port, and 3.5 mm audio jack if you want to connect it with your smartphones.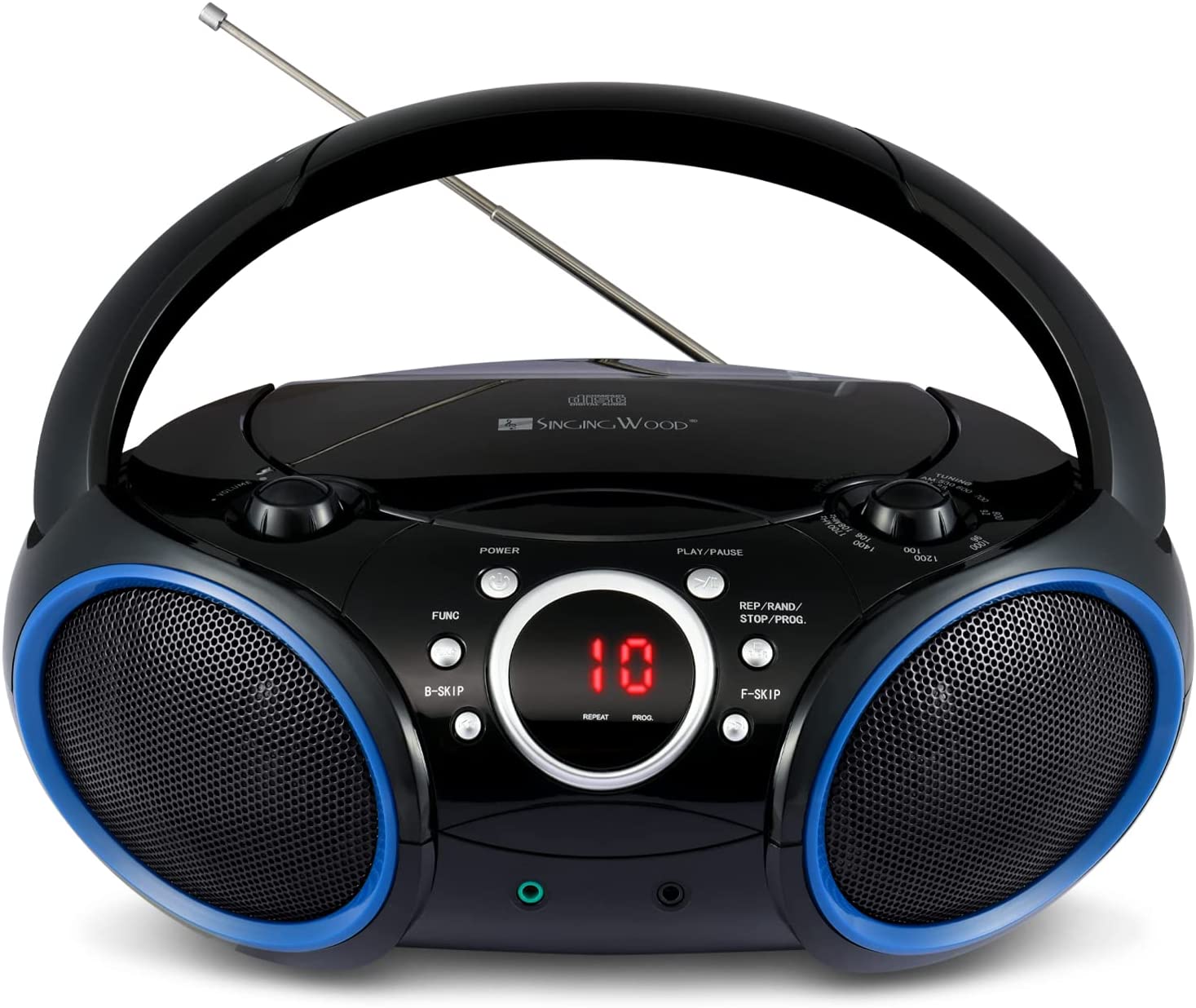 Features
Available in blue and red colours

Item dimensions –

11.8 x 9 x 4.8 inches

Dual 2.5 inches dynamic speakers 

Top loading CD player

Aux-in line, headphone jack 3.5 mm 
Pros 
AC power cord 

6 C battery 

Blasting sound 

Affordable 

Lightweight and portable 
Cons 
Not so impressive Build quality  
---
9. GPX Portable Boombox
---
One of the most affordable boomboxes you will find on the list. Talking about its features, on the top of the boombox, you will find a portable top-loading CD player along with the capability of AM/FM radio and a telescoping FM antenna. Not only this but there is a built-in AM antenna. 
Down the line, you will counteract with a 3.5 mm jack for connecting MP3 players so that you can hit it to play your favourite soundtrack. Also supported by built-in stereo speakers lashing out the best sound experience around the corner for the audiophile community. This boombox will never let you run out of fun when supported by a 6 C battery and an AC power cord. And last but not least, with 3W RMS output, be ready to experience loud soothing music like never before.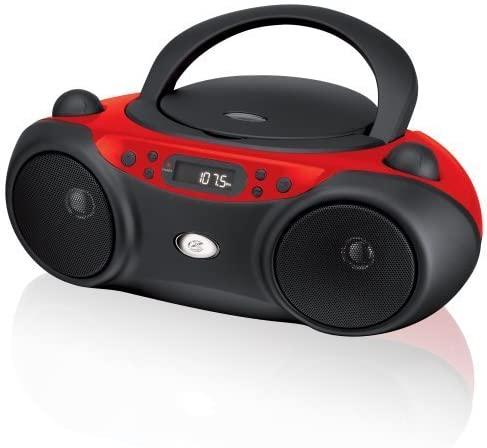 Features
Portable top-loading CD player

Built-in stereo speakers

3.5 mm headphone jack

Highly portable with handle 
Pros 
Lightweight 

AC power cord

Available in red and black colour

Great building quality
Cons
Sounds better on the AC power cord
---
10. QFX J-220BT ReRun X
---
I must say old is gold and will be forever, not because I said it, but this boombox proves it, giving that old-school sensational vibes of retro-looking boomboxes. This hits on point hard, not only just with its design but the impeccable sound quality it litters, going to make its hardcore fan.

You will be thrilled when that explosive sound from the 3band equalizer reaches your ears. With 4 radio bands supported (AM, FM, SW1, and SW2), you will have a plethora of listening options with excellent signal reception. The QFX J-220BT is equipped with all you need to play your soundtracks; Bluetooth connectivity, USB/SD ports, a built-in microphone, and a Cassette player, too, along with recording functions availability. 
It runs on 4 D batteries when you do not want to connect to an AC power cord. Manual buttons and a swivel handle are available on top for an easy operating system.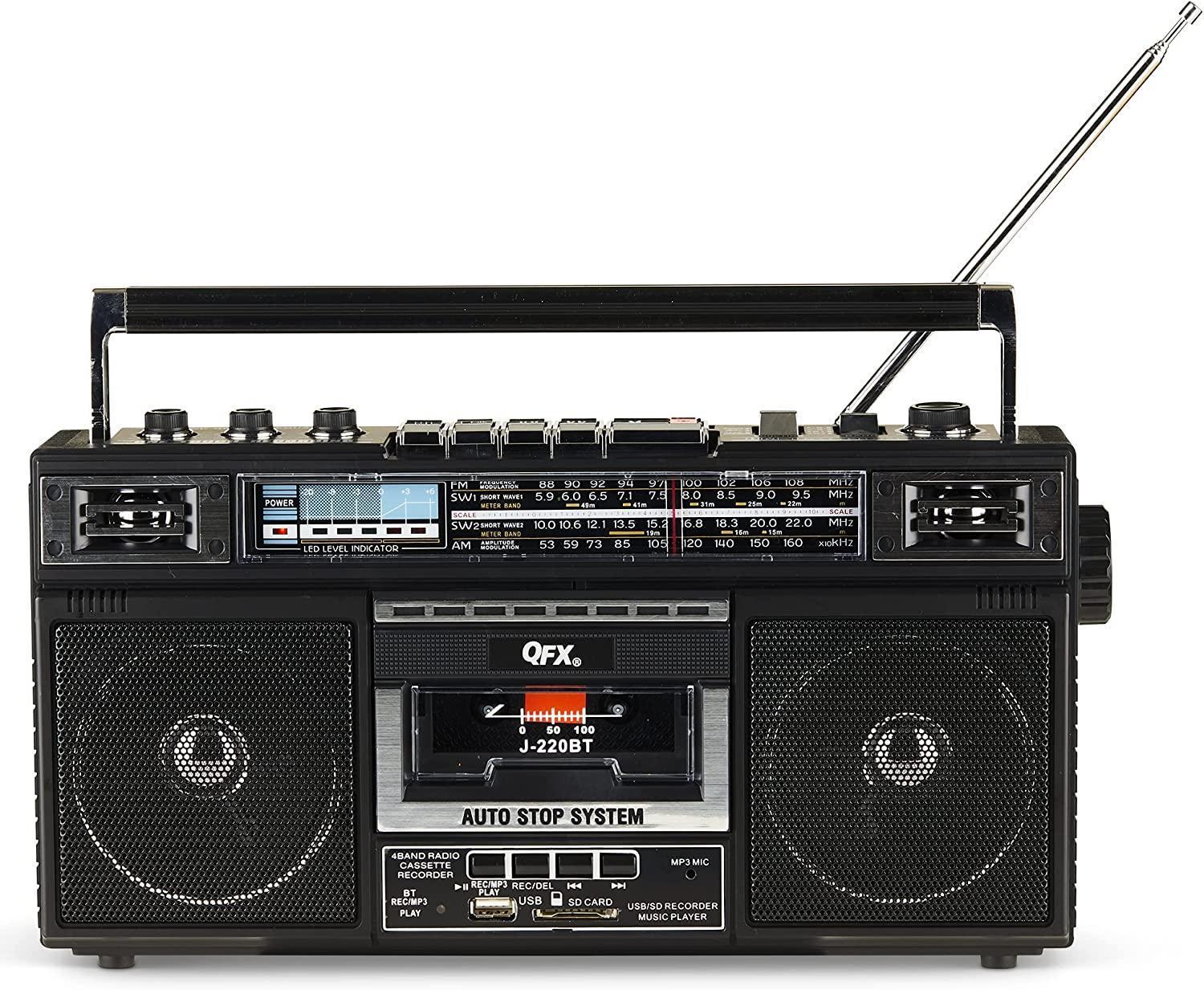 Features 
Explosive sound

Portable 

Bluetooth and multiple inputs supported 

Recording capabilities

Great reception
Pros
Operates AM/FM/ SW1 and SW2 

Bluetooth connectivity of 5.0 wireless version

Old retro-type design
Cons
---
FAQ's
---
Q1.Do these boomboxes require any kind of adapter to recharge?
Ans: They come with their own cord to charge them directly through power sockets and battery packs.
Q2.Will they support Bluetooth 5.0 wireless connectivity? 
Ans: Among the boomboxes mentioned above, QFX J-220BT supports Bluetooth 5.0 wireless connectivity and for other boomboxes, check the article.
Q3. Can we connect these boomboxes to PCs or Laptops? 
Ans: Yes, almost all the boomboxes these days are equipped with USB ports, and a 3.5 mm headphones jack so that you can easily connect them to your devices.
---
Wrapping Up
---
So, this was all about the top 10 best boomboxes in 2022. I hope this will help you in choosing the best boombox for yourself. Although we have mentioned features along with pros and cons for boomboxes, you must still go through the article for better clarification.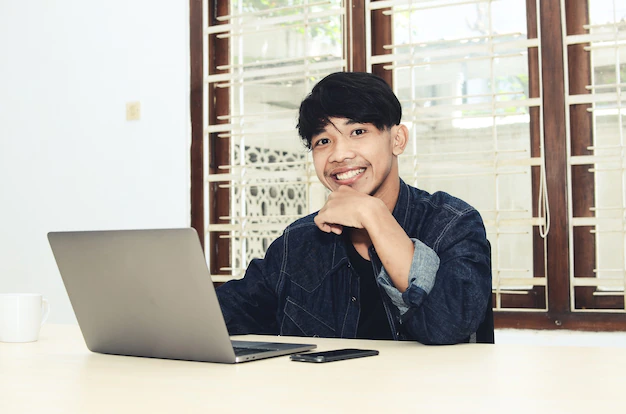 Kiran Kotte is a 25 years old Youtuber. He is a tech geek and also codes sometimes. He writes on various topics like Technology, Blogging, Web designing, and SEO. He runs various other blogs under various niches.