The way you want your entertainment is redefined with DISH Network. You can personalize your television packages to fit your preferences and way of life. Heartland, one of your favorite dish Network packages, comes with 11 premium channels. The Heartland Package is a family-friendly package designed to accommodate friends and family members of all ages.
You won't believe that you can get all of these for only $6.00. Hallmark Channel, Hallmark Movies & Mysteries, OWN, UP, PixL, GSN, Discovery Family Channel, Baby TV, RFD TV, Rural TV, and Ride TV are among the channels offered in the package. The popular programs available on the channels in the DISH Network Heartland package are listed below. You could worry occasionally about TV packages that include channels that are inappropriate for your children.
---
DISH Add-ons: Heartland Pack
---
If you select channel-rich packages, this could happen. If you choose the Heartland bundle from DISH Network, that wouldn't be the case. With the Heartland package, you may select the programming that best suits your requirements. To get a better idea of the channels available, take a brief look at the DISH Network Heartland Package, which is geared toward families with children.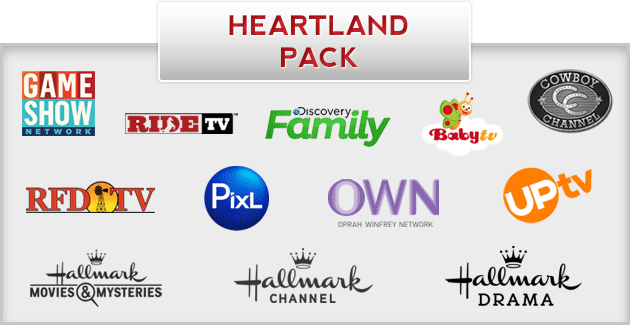 ---

Hallmark Network (Channel no. 185)
---
A popular family channel is Hallmark Channel. The goal of this channel is to unite your complete family. It offers a number of popular entertainment programs, including original films and television episodes, as well as a number of shows including The Golden Girls and Little House on the Prairies. You can watch adult-themed programming on the channel in the evenings. The channel also makes it possible for you to watch comedies with your family. Frasier is one of the channel's top comedies.
---
Movies & Mysteries at Hallmark (Channel no. 187)
---
You may watch unique dramas and mysteries on Hallmark Movies & Mysteries. One of the best channels to add to your package for your vacation maybe this one. Your holidays would be a celebration if you watched this channel. This channel would make a fantastic addition to your TV subscription because it offers a wide variety of movies and mystery dramas.
---
OWN (Channel no. 189) (Channel no. 189)
---
The primary goal of the Oprah Winfrey Network is to engage audiences in the greatest possible ways. The channel shows well-known documentaries, hit movies, and subjects that have won awards.
---
UP (Channel no. 188) (Channel no. 188)
---
Uplifting Entertainment, sometimes known as UP TV, was initially intended to emphasize gospel music. Then, the channel was broadened to include a huge number of engaging shows. The UP channel provides original dramas, comedies, movies, and television programming. UP TV transmits family-friendly television programs and films, just like other networks that cater to families. The resurgence of compassion in people's hearts is a major theme in many of these TV programs. There is no doubt that this program will benefit your family members.
---
PixL (Channel no. 388) (Channel no. 388)
---
One of the well-liked channels offered by the DISH Network packages, PixL TV, provides your family with endless fun. The channel airs some of the best drama programs, including Secret Summer, the Nanny Express, and Miles from Nowhere. PixL TV is distinctive because it offers family films, heartfelt love stories, and pleasant comedies. The fact that you may watch them with little to no ad interruptions is the most crucial aspect.
---
GSN (Channel no. 116) (Channel no. 116)
---
Game shows and other forms of competitive entertainment are the main focus of the Game Show Network (GSN) channel. It offers fantastic chances for its viewers and participants to win money and prizes. Baggage, Card Sharks, Skin Wars, The Pyramid, Lingo, and many other popular programs are just a few of this channel's offerings. GSN is a channel that is exclusively for gamers.
---
Finding Family (Channel no. 179)
---
The Discovery Family Channel airs reality TV. The best animated and kid-oriented programming focuses on giving your kids good fun.
---
Child TV (Channel no. 824)
---
One of the popular channels designed by professionals in child development for your children is the Baby TV channel. You can enjoy watching the shows on this channel with your children. The pleasant moments you shared watching Baby TV with your children will always stick in your memory. Children's stories, music, and rhymes are among the shows on this TV.
---
Local TV (Channel no. 232)
---
Rural TV, which is based on the rural way of life, might be thought of as culture television. It is believed that rural TV serves the passions, needs, and interests of rural residents. Programs are designed to educate rural residents and provide them with the necessary knowledge about farming and rural issues. Rural entertainment and country music are a couple of the noteworthy programs on this channel.
---
Dish TV's retention department can be contacted.
---
It's challenging to avoid this pricing strategy because it's so prevalent. However, there are a few tips that can help you reduce your Dish bill. Contacting Dish's retention division is the best option to resolve the issue of the introductory price. It can be a great hassle to call customer support to haggle, but it's probably your best bet for general bill rises. Many times, the retention teams at TV and internet providers can provide additional price reductions and other savings.
---
Search online for any ongoing promotions you can mention in the conversation
---
Know the prices of their competitors to gain an advantage (google DirectTV pricing, for example) Make it look as though you'll cancel that day if the prices don't change. Ask to talk with higher management because they occasionally have access to resources that other staff do not. If they reside in your home, opening a service under someone else's name is a cunning technique to receive discount pricing offers once more. You can register using the information of a spouse or family member who lives with you to take advantage of special discounts.
The second choice is to terminate service for a 30-day period. You can cancel your Dish service and re-sign up for a promotional price 30 days later if you can spend a month without watching television (or solely relying on streaming services). Although it takes a little bit longer than the first choice, it is still an option if there is no one else at home. The second choice is to terminate service for a 30-day period. You can cancel your Dish service and re-sign up for a promotional price 30 days later if you can spend a month without watching television (or solely relying on streaming services).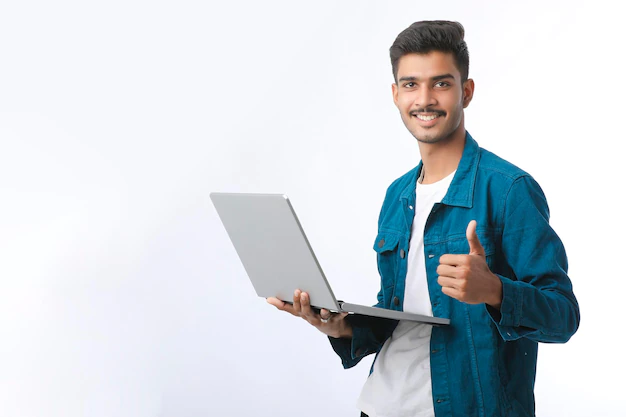 Virat Raj is a Digital Marketing Practitioner & International Keynote Speaker currently living a digital nomad lifestyle. During his more than 10 years-long expertise in digital marketing, Virat Raj has been a marketing consultant, trainer, speaker, and author of "Learn Everyday yourself: In Pursuit of Learning" which has sold over 10,000 copies, worldwide.