The best Beyerdynamic Headphones: Gaming, who does not love gaming? I do, and sound is a vital aspect of it. If the sound/audio is not right, the gaming experience remains incomplete. Thus, to complete the experience, one needs a good set of headphones. Now, the market is enormous.
There are so many brands in the market that it might get confusing for someone who is not deep into the field. No worries, I got you! I have tried so many headphones in my life from so many different brands that now I have the idea of which headphone brand is worth your money, and it is Beyerdynamic. There are a lot of headphones under the brand, but we are only going to talk about the best Beyerdynamic headphones, so let's get started:
Before mentioning the different models, I would like to give you a few reasons why you should even consider going with Beyerdynamic in the first place. The first reason is its quality; the touch and feel of the product will make you feel like a pro gamer. It is also reliable, and the best factor is that it is value for money. No other headphone gives you all of these qualities at such a price point.
Check also: Best Sennheiser Headphones
---
Best Beyerdynamic Headphones – Experience Gaming Like Never Before
---
Beyerdynamic has been one of the most well-known and trusted brands in the field of headphones. Their customer base consists of people who buy only top-notch products. So, the list of best Beyerdynamic headphones for you is:
---
1. Beyerdynamic DT 1990 Pro
---
Being one of the best-wired headphones made by Beyerdynamic, the DT 1990 Pro is ideally suited to be used in a studio. It comes with detachable cables, mini-XLR connectors, soft ear pads, and a replaceable headband. The best part is that the design of the headphone is in a way that allows for critical listening.
The frequency response of the headphone is 5-40,000 Hz, and the nominal sound pressure level is 120 dB SPL. It also comes with two pairs of cables and a premium hard case cover when ordered.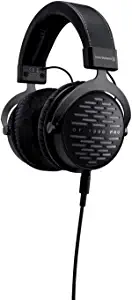 Key Features:
Good quality

Wide frequency range

Great connectivity
Pros:
Accurate sound output

Minimalistic design

Reliable
Cons:
---
2. Beyerdynamic Amiron
---
Here is yet another wired headphone by Beyerdynamic. The Amiron comes under their high-end category because this headphone is specially handmade in Germany. There has been no use of any machines. Thus the sound experience in these headphones is going to be as pure & refined as it can get.
The material used in its making is Alcantara, one of the finest leather qualities. The frequency ranges from 15Hz to 24,000Hz, which is quite good. The 250-ohm Tesla technology makes the headphone extremely efficient. The best thing about these headphones is that they are designed to make you feel like you are in a concert.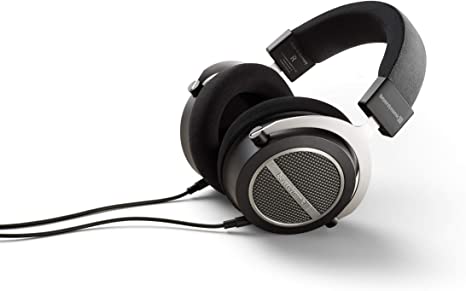 Key features:
Extremely comfortable

Unique sound experience

Sleek Design
Pros:
3.5 mm audio jack fits every device

Over-ear design cancels outside noise

Lightweight
Cons:
Expensive

Wired

Not compact
---
3. Beyerdynamic Aventho
---
Coming to the wireless segment of Beyerdynamic, Aventho is one of their finest products, the reason being its compatibility will a wide range of devices, be it Android or ios. Even though it is wireless, it offers the same unique quality sound experience that other top-end Beyerdynamic headphones give.
The Integrated sound personalization feature helps it to blend in with the user's needs. This makes it an excellent fit for anyone wanting a pair of headphones according to their personal choices. The Qualcomm aptX HD helps the headphone transmit the top sound to the user. Plus, it has a fantastic battery life of 20 hours, so once charged, you can easily expect it to last 2-3 days if you use it intensively.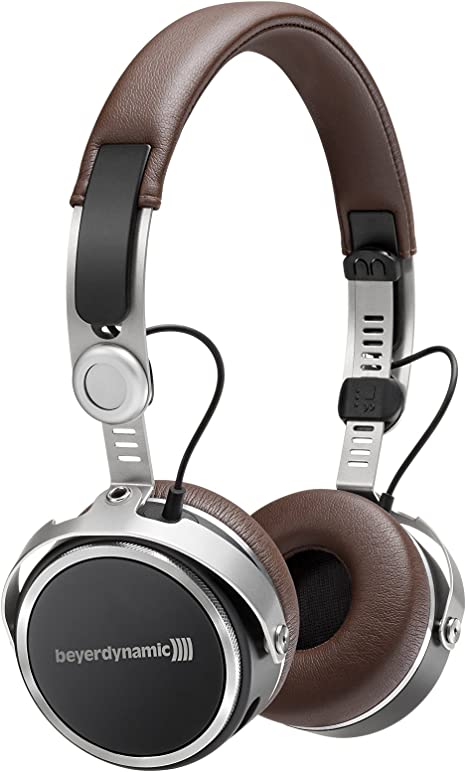 Key features:
Classy Design

Comfortable

Wide connectivity
Pros:
Best Bluetooth transmission

Long battery Life

Adapts to user's needs
Cons:
---
4.Beyerdynamic DT 880 Premium
---
The premium range of Beyerdynamic is also very interesting. This is because, with headphones like the DT 880 Premium, you can also choose the size. One can choose from three options: 32 OHM, 250 OHM, and 600 OHM.
The 32 OHM one is recommended to be used on devices such as smartphones and tablets. The 250 OHM is recommended to be used in home stereo systems that are paired with an amplifier. The 600 OHM one is recommended to be used with Hi-Fi systems that are integrated with powerful amplifiers.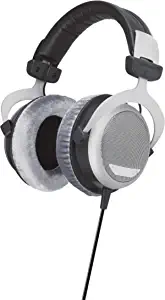 Key Features:
Wide variety of sizes

Can be integrated with different devices
Pros:
Comes with a protective hard-shell carrying case

Attenuates ambient noise

Great Bass
Cons:
---
5. Beyerdynamic T1 2nd Generation Audiophile Stereo
---
Being probably one of the best-designed headphones by Beyerdynamic, it is for the people who like to hear every stroke and cord in the music. It offers one of the best-refined sound experiences while being compact.
It has incredible bass clarity, and now it has an extended harmonic range than its predecessor, the 1st Generation Audiophile stereo headphone. Having a high impedance of 600 OHM enables it to suit Hi-Fi listening. The ultra-pure copper conductors provide the best sound flow one can get in a headphone.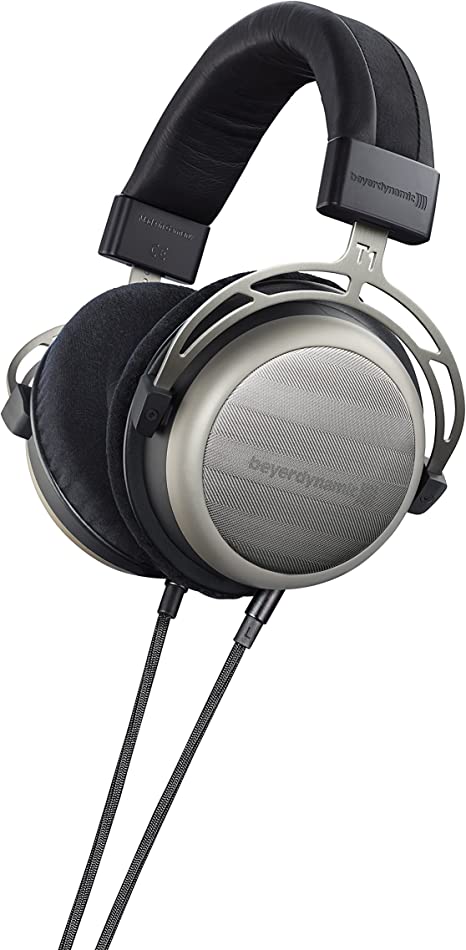 Key Features:
Suited for Hi-Fi listening

Has OCC copper conductors
Pros:
Bass clarity

Extended harmonic range

Comes with a Semi-open option
Cons:
Don't entirely cancel the outside noise
---
6. Beyerdynamic DT 1770 Pro Series Studio
---
When it comes to Studio headphones, there is no better choice than the DT 1770 Pro Series. They have a 3-layer membrane, and they have been optimized in a way that the user always gets maximum comfort while using the headphones. Comfort has been given the utmost priority.
They are best suited for long recording sessions in music studios. Thus they have been designed in a manner that they can be used for hours at a stretch. There are also features like temperature and sweat control so that the headphone can be used for prolonged sessions.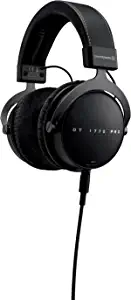 Key Features:
Perfect for studios

High-end comfortability
Pros:
Comes with features like temperature and sweat control

Punchier bass

Comes with a closed-back option

Cancels all the outside noise
Cons:
Can't be used in daily life
---
7. Beyerdynamic MMX 300 Gaming
---
Known as the king of headphones in the gaming world, professional gamers who have been using it for hours at a time, recommend it to anyone who is willing to develop a career in gaming. There are a lot of features that have helped in giving the MMX 300 the king status. It is lightweight and super comfortable. Plus, its versatility of being able to work with most of the gaming applications makes it a top choice among gamers.

Key Features:
Can be used for long hours at a time

Versatile
Pros:
Lightweight

Rugged build quality

Over-ear closed back
Cons:
Wired

Not suitable for daily outdoor use
---
8. Beyerdynamic Custom Interactive Gaming headset
---
Suppose you want to own a headphone that you can configure in every way according to your needs: be it the length, the comfort, the sound level, or setting up the microphone according to your needs. Then this is the perfect headphone for you. The number of customizations it offers has led to it being named the Custom Headphone.
It is a closed-back and over-ear fit type of headphones best suited for gaming. It also comes with a detachable remote cable, an extension cable, and an adapter. The sound experience with the high-quality hardware and inner wiring makes a considerable difference compared to other headphones. It also has a wide frequency ranging from 5 to 35,000 Hz.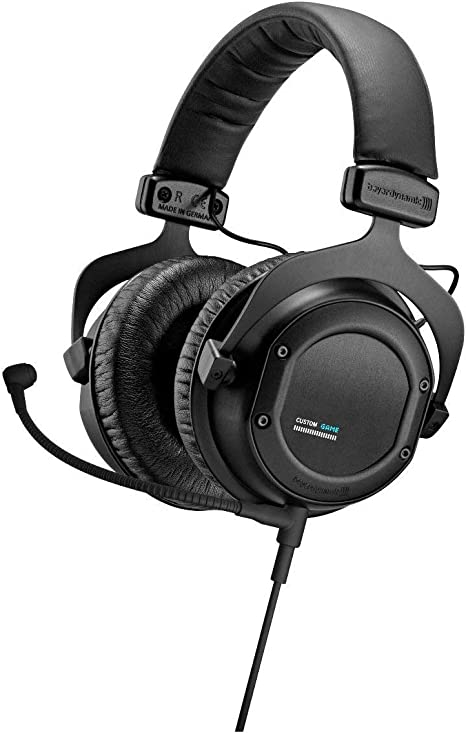 Key Features:
Amazing sound quality

Tight fit

Customizable
Pros:
Excellent deep bass

Can be used for calls and meetings

Compatible with a wide range of devices
Cons:
Uncomfortable for prolonged periods

Build quality is not that great
---
Product Guide
---
Beyerdynamic has quite a few varieties when it comes to headphones. All of them have different purposes and values, but they are also versatile enough to be used for various purposes.
---
Open & Closed, and semi-open models
---
Beyerdynamic offers these three types of models in various designs and colors. Though they may be on the expensive side, their value-for-money proposition is top-notch.
---
Sound Quality
---
The headphones offered by Beyerdynamic must have a good combination of bass & treble. If the combination is good, the sound experience will be comforting, and the sound output will be clear & focused.
---
Technical Specifications
---
Beyerdynamic has also perfected the technical features of its headphones like the Frequency response, the impedance, and the driver type, which is also why the sound experience on Beyerdynamic headphones feels different from other headphones.
---
Beyerdynamic's Model line-up
---
   

Portable

– For people who are always on the go

   

Studio & Creator

– If you are a creator or own a studio, then this range of products is perfect for you

   

Gaming

– For gamers who want to keep winning.

   

At home

– Ideal to be used in stationary environments.

   

High-end

– The best one can buy from Beyerdynamic
---
FAQ's
---
Q1.What about the after-sales service of Beyerdynamic?
Ans: Beyerdynamic is still trying to expand its network in India. Thus they only have its stores and service centers in top metro cities like Delhi and Bangalore. The 2-year warranty they give on their products is legitimate, so once you have bought a headphone from them, you can be assured of not facing any issues for at least two years.
Q2.Why are Beyerdynamic headphones so pricey? Are they worth the money?
Ans: See, many brands in the audio market will give you a headphone for a much more affordable price, but when you buy a Beyerdynamic headphone, it's an experience in itself. The quality of materials, the craftsmanship, the durability, and the technical specifications are miles apart from other brands. So, yes, they are worth it. If you want to experience one before buying, you can go to a Beyerdynamic store and try any one of their headphones. That will help you in realizing how Beyerdynamic stands as a brand.
Q3.Why should I go with Beyerdynamic when other high-end audio brands in the market make good products?
Ans: I agree that some other excellent brands in the market make a good product. But what separates Beyerdynamic from them is the Handmade craftsmanship that goes into making the product. Also, unlike other brands that usually mass produce their products by machine, Beyerdynamic makes a limited number of products at a time. That is why you will always see some of their products being sold out. Hence, I recommend you try a Beyerdynamic product at least once and decide for yourself.
Q4. Are Beyerdynamic headphones only suited for a single purpose? Can't they be used for different purposes like Gaming and studio?
Ans: Well, Beyerdynamic headphones are purpose-built, but it does not mean that they can only be used for that single purpose and not some other purpose. You can use them for whatever purpose you want to. For example, studio headphones are not just meant to be used in the studio. They can also be used as gaming headphones.
All the headphones I mentioned in this list are multi-purpose. They can also be used for gaming if that's precisely what you want to use them for.
Check also: TOZO Earbuds
---
Wrapping up
---
In this article, I have presented you with the best Beyerdynamic headphones for Gaming. In my opinion, some of these headphones are not dedicated to gaming, but they have all the features to be considered great gaming headphones. This is why they are a part of the list. Even though they are on the market's expensive side, the value they bring is fantastic. After reading this article, I trust that you will get to choose the best Beyerdynamic headphone for you and experience gaming like never before.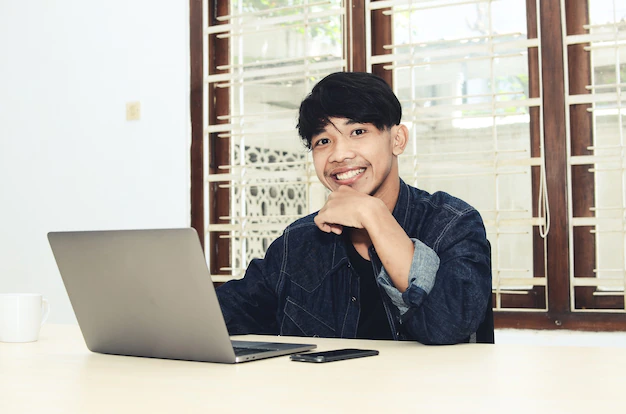 Kiran Kotte is a 25 years old Youtuber. He is a tech geek and also codes sometimes. He writes on various topics like Technology, Blogging, Web designing, and SEO. He runs various other blogs under various niches.