Whether you recently bought an Arris modem or are facing network issues with the existing equipment, you must understand the Arris modem lights and their importance. Those handy indications are valuable and aid in understanding the internet/current modem's condition. Investing in an Arris modem is an excellent method to make the most of your high-speed internet subscription. It is hard to envision these modems causing you issues given their ability to handle rates up to 1 Gbps until the Arris modem lights start to flash and shut off!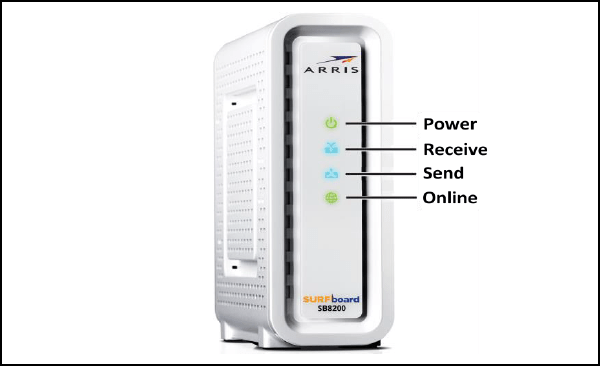 All modems have four to six lights, each displaying details about your internet connection state. Therefore, using the lights to identify the causes of your internet connection issues simplifies troubleshooting. Our post will specifically address this and demonstrate how to rapidly fix your modem so that you may resume using a reliable Internet connection. It will go through every aspect of Arris modem lights, their significance, and other pertinent information, including quick fixes and possible reasons. Additionally, we have established a distinct section for analyzing and fixing problems.
Check also: Best Modem Router Combo
---
Arris Modem Lights: What Do They Mean?
---
Your broadband connection's status can be communicated through the LEDs on Arris modems and routers.  Understanding what these lights signify will help you troubleshoot potential difficulties because they can flicker or change color depending on various connectivity concerns. Regarding the Internet, networking equipment can malfunction for several reasons, including network congestion, ISP problems, modem issues, trouble with a specific band, and many more. The meanings of the LED indicator lights on Arris modems might be confusing, making it difficult to pinpoint the particular offender.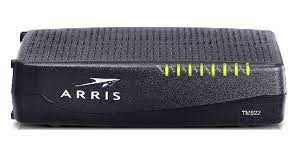 However, do not worry—this manual has you covered! We will collaborate with you to locate and resolve the root cause. Remember that the Arris modem lights can all be in different states, such as solid red, off, solid green, or blinking.
---
Arris Modem Lights: What Are They?
---
Let us individually review each light on an Arris Surfboard modem and all the options and fixes. You must be aware that your modem's rays could vary depending on your type.
Check also: Best Router
---
1. Power Light
---
Flaming Red Power Light 
Meaning

: A gateway boot issue or an ISP power outage.

ISP upkeep could be at blame.

You could either wait for the ISP to pick up the connection as a workaround or unplug and re-insert the power cord.
Flashing Green Power Light
Making Efforts to Connect

You must have recently rebooted the device. As a result, this could be the problem.

As a workaround, wait until the connection has stabilized.
Green Solid Power LED
The power light is solid green when everything is in working order.
---
2. Internet Light
---
Red Internet Light in Solid Form
The internet light is solid red and does not detect the IP address.

Internet connection could be at blame.

Solution

:

Unplug the apparatus and check the coaxial cable.
On the Internet, light is displayed in solid blue.
No further steps are required because the connection has been made and is functional.
---
3. Take in (Receive) Light
---
Blinking Blue Receive Light
This shows that both bands are operating correctly and are receiving robust inputs.
Blinking Green Receive Light
There is only one operational band (2.4GHz or 5GHz)

Local traffic or an ISP issue could be the root cause.

Solution

: Disconnect the device, remove any interference, or contact the Internet service provider.
---
4. Send light
---
Meaning of Blue Blinking Send Light
Information(data) is transferred between the two groups. (There is no need for intervention.)
Send Light Blinking Green's definition: 
Upload speeds are only crucial for one band.

The root cause could be interference or issues particular to the ISP.

As a fix, restart the device or reconnect to the ISP.
---
5. Online Light
---
Online Green Light Flashing
The gadget is struggling to establish an internet connection.

Potential root cause

: a broken modem.

Connect with a customer support agent and provide them with the serial number and other details.
Online Solid Green Light Indicates
An unwavering green online light indicates a successful Internet connection.
---
6. Wireless Light
---
Broadband Light with Strong Red Display
Nothing connected was discovered.

A broken cable or an ISP outage could be to blame.

Check the power bar, unplug the appliance, or get in touch with customer care as a solution.
Broadband light in green that flashes
This shows that the connection is loading on the modem.

Restarted is a possible root cause.

Solution

: Give it some time.
Broadband Solid Green Light
A WAN connection is active if the broadband indicator is solid green.
---
7. Wireless Light
---
Red Wi-Fi Light
A solid red Wi-Fi light indicates a failed network (wireless)

The main factor could be ISP or maintenance issues.

To find an alternative, speak with customer assistance.
Yellow Wi-Fi Light Flashing
Increasing wireless traffic

Keep waiting until the connection is stable.
Solid Green Wi-Fi Light
A solid green Wi-Fi light indicates an active Wi-Fi connection.
---
8. Cellular Light
---
Shut off the phone's light
Meaning

: No one is using a phone.

One potential root cause is the problematic cable between the modem and the phone line.

If the cables still need to be fixed after that, contact the customer executive.
Green Phone Light Flashing
If your phone's LED flashes green, there will be traffic soon.
Green
The port is open if the phone light is a solid shade of green.
---
9. Link Light
---
The link Light is Green
When the Ethernet cable's Gig connection is active, the link indicator turns green, meaning there is no need to be concerned.
Green Link Light
According to the yellow link light, only 10/100Mbps connections seem to be operational.

Possible reason

: a damaged cable.

As a fix, connect to the ISP or look at the cabling.
Blinking link light
There is evidence of activity, and a relationship is established.
---
Basic Troubleshooting
---
Now that you have addressed nearly all potential problems, here are some fundamental suggestions to help you handle any unplanned situation:
If a problem develops, keep resetting the device.

Regularly review the modem configuration.

Once a month, power cycle your gadget.

Pay attention to the warranty.

Keep the applicable ISPs and Arris's contact details handy at all times.
---
Concluding Remarks
---
You may learn much about the internet connection from the lights on your Arris modem.

If you are having issues with your Internet, you may tell where the problem is by looking at the light indicators on your modem.

Remember that depending on the modem model, the lights' significance will change.

However, you can typically learn about the lights' electricity, internet connection, and Wi-Fi signal.

You can quickly troubleshoot your internet issues if you understand what the various lights on your router represent.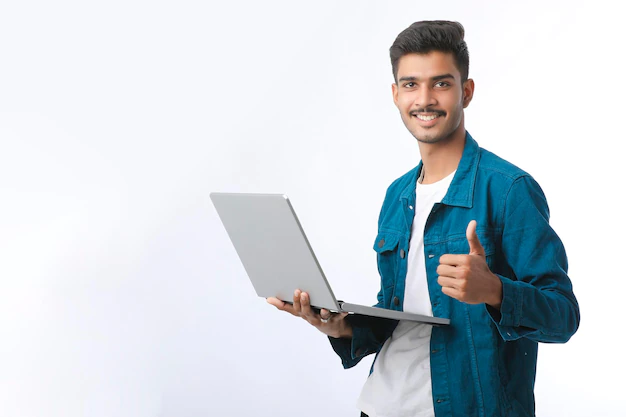 Virat Raj is a Digital Marketing Practitioner & International Keynote Speaker currently living a digital nomad lifestyle. During his more than 10 years-long expertise in digital marketing, Virat Raj has been a marketing consultant, trainer, speaker, and author of "Learn Everyday yourself: In Pursuit of Learning" which has sold over 10,000 copies, worldwide.