Simplify your home entertainment middle with the GE 3 machine universal remote It can control up to 3 exclusive audio/video gadgets such as your TV cable Blu-ray participant DVD DVR satellite tv for pc audio soundbars and streaming media gamers like Roku and Apple TV The remote elements a grasp extent control option which lets in you to control the quantity no depend on what machine you are working The menu navigation buttons information you thru the menu on DVRs and set pinnacle containers and the DOT button offers convenient to get right of entry to to the sub-channels such as four two The smooth brushed silver designer end compliments any home decor The coaching guide and Code library listing is covered alongside with a video hyperlink for an easy-to-follow online setup video The remote requires two AAA batteries which are no longer covered Streamline Your domestic leisure gadget with the GE 3 device universal remote
GE 3 Device Universal Remote Codes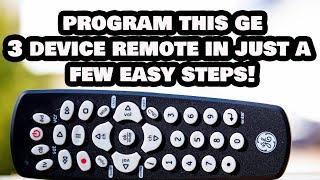 | Brand Name | GE Universal Remote Cl3 Codes |
| --- | --- |
| Abex | 0401, 4021 |
| Acer | 3291, 4001 |
| Acme | 0471 |
| ADA | 0461 |
| ADC | 1431, 1661 |
| Admiral | 0371, 0681, 1441, 1661, 4991 |
| Advent | 3261, 0581, 0871, 0631, 2131, 2891, 4931 |
| Adventura | 0151 |
| Aiko | 1011, 4321 |
| Aiwa | 0411, 0931, 0651, 1411, 4731, 4801 |
| Akai | 3215, 3111, 0331, 0781, 0351, 1901, 4141, 4151, 4461, 5141, 5171 |
| Alleron | 1711 |
| Amark | 1441 |
| Ames | 1275 |
| Amtron | 2191 |
| AMW | 0645, 0825 |
| ANABA | 1375 |
| Anam National | 0271, 1941, 2151, 2191, 2331, 3431 |
| AOC | 0001, 0011, 0251, 0891, 1221, 0391, 0611, 4221, 4261 |
| Apex | 0045, 0191, 0245, 0375, 0425, 0431, 0671, 1025, 1105, 1891, 2911, 4841, 5111 |
| Archer | 1441 |
| Aspect | 1271 |
| Audiovox | 2191, 2451, 4031, 4051, 4521 |
| Aurora | 3061 |
| Axion | 0881 |
| Bang & Olufsen | 1591 |
| Belcor | 0001 |
| Bell & Howell | 1261, 1421, 1661, 1691, 3421 |
| BenQ | 1741, 1761, 2221, 3871 |
| Bluesky | 3511, 3921 |
| Bradford | 2191 |
| Broksonic | 0211, 0371, 1631, 0851, 4951 |
| Brokwood | 0001 |
| Candle | 0001, 0151, 0961, 1221 |
| Capehart | 0391, 4221 |
| CCE | 3721 |
| Celebrity | 1901 |
| Celera | 0191 |
| Centrios | 1361 |
| Centurion | 1221 |
| Cetomer | 0001, 1631, 2901, 2961 |
| Cetronic | 1941 |
| Changhong | 0191, 1891, 4841 |
| Chimei | 3071 |
| Cineral | 3511, 4321 |
| Citizen | 0001, 0351, 0371, 0961, 1011, 1311, 1381, 1221, 1661, 1941, 2191, 4321 |
| Clairtone | 0011 |
| Classic | 0191, 1891, 1941, 4841 |
| CLP | 0061 |
| CLP Classic | 0001, 0041, 0161 |
| COBY | 3351, 2511, 2521, 2531, 2541, 2551, 5091, 5191 |
| Color voice | 1431 |
| Colortyme | 0001, 1221, 1431 |
| Concerto | 0001, 1221 |
| Concierge | 1771, 1781 |
| Contec | 0011, 1911, 1941, 2191 |
| Cornea | 1471 |
| Craig | 1941, 2191 |
| Crosley | 1961 |
| Crown | 1941, 2191 |
| CTX | 1441 |
| Curtis Mathes | 5351, 5371, 0001, 0261, 1191, 1221, 0351, 1261, 1311, 1421, 1551, 1661, 1691, 3421, 4011, 4941 |
| CXC | 1941, 2191 |
| Cybervision | 3511 |
| Daewoo | 0001, 0221, 0251, 0591, 0721, 0831, 1081, 0971, 1011, 1221, 1231, 1251, 1521, 1431, 1501, 1551, 1561, 1941, 2181, 4321, 4681 |
| Daytron | 0001, 1221 |
| Dell | 0981, 1401, 2041, 3441, 3601, 3811 |
| Diamond Vision | 1211, 1611, 2001, 4771, 4811 |
| Digimate | 4301 |
| Digistar | 0381, 0581, 0871, 1061, 2451, 2471, 3811, 3881, 3901 |
| Dimensia | 1421, 1691, 3421 |
| Dish Network | 5491 |
| Disney | 0371, 1101 |
| Distar | 3231 |
| Dukane | 1271, 1981 |
| Dumont | 0001, 1771, 1781 |
| Durabrand | 0371, 0861, 0921, 1381, 2271, 2291, 5121 |
| Dynasty | 1941 |
| Dynex | 5311, 3141, 3161, 0371, 2891 |
| Electroband | 0001, 1901 |
| Electrohome | 0001, 1221, 1921, 2151, 3431 |
| Elektra | 1661 |
| Element | 5361, 2891, 1741, 5411, 2401, 4111 |
| Elite Video | 0901 |
| Emerson | 5341, 2761, 5221, 5231, 0001, 0021, 0031, 0281, 0041, 0271, 0291, 0371, 0441, 0451, 0701, 0731, 0691, 0741, 0851, 1381, 0931, 1221, 1251, 1261, 1371, 1451, 1461, 1551, 1611, 1631, 1681, 1701, 1711, 1931, 1941, 2171, 2191, 2361, 3451, 4701, 4731, 4751, 4761, 4831, 4911 |
| Envision | 5401, 0001, 0071, 1221, 3751, 4261 |
| ESA | 1381 |
| Fisher | 1161, 1261, 1531, 1581, 1911, 3481, 5001 |
| Fluid | 2401, 2421, 2431 |
| Fujitsu | 0901, 1711, 4241, 4341 |
| Funai | 0701, 0931, 1381, 1711, 1941, 2191, 4731, 4761 |
| Futuretec | 1941, 2191 |
| Gateway | 0501 |
| GE | 0001, 0041, 0051, 0141, 0261, 0361, 1421, 0791, 0811, 1221, 1691, 1921, 1951, 2111, 2151, 3421, 3431, 4011, 4921 |
| Gibralter | 0001, 1771, 1781 |
| Gold Star | 0001, 0251, 0611, 0761, 0931, 1181, 1221, 1501, 1911, 4731 |
| GPX | 4701 |
| Gradiente | 0001, 2291, 3661, 3951, 3961 |
| Grundy | 1711, 2191 |
| Guestvision | 1861 |
| Gvision | 4871 |
| Haier | 0671, 2891, 1741, 0861, 0921, 3831, 4851 |
| Hallmark | 0001, 1221 |
| Hannspree | 5451, 5461, 5291 |
| Harvard | 2191 |
| Hauppauge | 3791 |
| Hello Kitty | 5391 |
| HP | 3491, 4881 |
| Hisense | 5331, 4671, 2891, 1741, 0671, 2081, 2211, 3671, 4381, 4391 |
| Hitachi | 3341, 2891, 1741, 0001, 0841, 0931, 1041, 1221, 1371, 1271, 1341, 1481, 1661, 1721, 1751, 1801, 1911, 1981, 2051, 3621, 4121, 4331, 4731 |
| Hyundai | 4651 |
| ILO | 3215, 1141, 1381, 1971, 2391, 2481, 3691, 4231, 5031, 5141, 5171 |
| IMA | 2191 |
| Infinity | 1171, 1961, 4791 |
| InFocus | 3421 |
| Initial | 2481, 4231, 4821, 5031, 5041 |
| Insignia | 0371, 2891, 1741, 0581, 0701, 0871, 0921, 1241, 1381, 2241, 2271, 2921, 3761, 3841, 4371, 4721, 4761, 5051, 5061, 5181 |
| Integra | 1841 |
| Inteq | 1771, 1781 |
| ISymphony | 3041 |
| Janeil | 0151 |
| JBL | 1961 |
| JC Penney | 0001, 0051, 0251, 0261, 0351, 0791, 0811, 1421, 0961, 1221, 1311, 1451, 1691, 1911, 1921, 1951, 3421, 3451, 4011 |
| JCB | 1901 |
| Jensen | 0001, 1221, 2271 |
| JVC | 5281, 2891, 1741, 0311, 0481, 0771, 0901, 0941, 1281, 1481, 1801, 1911, 2381, 2751, 4121, 4201, 5071 |
| Kawasaki | 4741 |
| Kawasho | 0001, 1221, 1901 |
| Kaypani | 0391, 4221 |
| KEC | 2191, 1941 |
| Kenwood | 0001, 1221 |
| KLH | 0191 |
| Kloss Novabeam | 0151, 1021 |
| Kogi | 4871 |
| Konka | 5441, 0471, 0521, 0751, 1241, 1671, 2121, 2191, 2241, 2371, 4621, 4901, 4971 |
| KTV | 0011, 1491, 1681, 1941, 2191 |
| Kurazai | 1661 |
| KWorld | 2931 |
| Lasonic | 1211, 1611, 4811 |
| Legend | 0581 |
| LG | 5501, 2891, 1741, 5511, 3001, 3021, 3091, 3221, 3281, 3311, 5271, 0001, 0131, 0611, 0761, 0931, 1181, 0251 1221, 1471, 1501, 1911, 3811, 4731 |
| Liquidvideo | 0881, 1111 |
| Lodgenet | 1421, 1661, 1691, 2091, 3421, 4091 |
| Loewe | 1871, 1961 |
| Logik | 1421, 1661, 1691, 3421 |
| Luce | 0301 |
| Luxman | 0001, 1221 |
| Lxi | 0001, 0261, 0811, 0931, 1221, 1261, 1311, 1421, 1691, 1961, 3421, 4011, 4731 |
| Magnasonic | 1711 |
| Magnavox | 0001, 0321, 2891, 1741, 0681, 0701, 0961, 1021, 1801, 1171, 1221, 1961, 2321, 4191, 4641, 4761, 4791, 4991 |
| Majestic | 1421, 1661, 1691, 3421 |
| Manhattan | 5381 |
| Marantz | 0001, 1221, 1841, 1961 |
| Maxent | 3361, 0501 |
| Medion | 1101, 1141, 2351 |
| Megatron | 0001, 1221, 1271 |
| Mei | 0011 |
| Memorex | 0001, 0211, 0371, 1161, 1221, 1261, 1421, 1631, 1691, 1711, 2401, 1661, 3421, 4251, 5001 |
| MGA | 0001, 0251, 1221, 1581, 1711, 1801, 1911, 1921 |
| Midland | 0051, 0261, 0811, 1691, 1771, 1781, 4011 |
| Mintek | 4231 |
| Minutz | 1951 |
| Misakai | 1381 |
| Mitsubishi | 3271, 0001, 0251, 1221, 1801, 1581, 1711, 1811, 1921, 2701 |
| Monivision | 0491 |
| Montgomery Ward | 1421, 1661, 1691, 3421 |
| Moteva | 1261, 3661 |
| Motorola | 1441, 2151, 3431 |
| MTC | 0001, 0011, 0251, 0351, 1221, 1311 |
| Multitech | 2191 |
| Multivision | 0081 |
| Myron & Davis | 2101 |
| NAD | 0001, 0401, 1221, 1311, 4021 |
| NEC | 0001, 0251, 0341, 1221, 1431, 2151, 1801, 1841, 3431, 4401 |
| Net TV | 0121, 0501 |
| Nexxtech | 0871, 1201 |
| Nikei | 1941 |
| Nikko | 0001, 1011, 1221, 4321 |
| Niko | 3581 |
| Norcent | 0511, 0671, 2181 |
| NTC | 1011, 4321 |
| Olevia | 3081, 2431, 2771, 2781, 2791, 5151, 5161 |
| Oncommand | 1861, 3991 |
| Onking | 1941 |
| Onkyo | 3101 |
| Onn | 2891, 1741 |
| Onwa | 1941, 2191 |
| Optimus | 0201, 0401, 1571, 1881, 3551, 4021, 4691, 5201 |
| Optoma | 3121, 2441 |
| Optonica | 0341, 1441 |
| Orion | 0281, 0371, 1771, 1781 |
| Panasonic National | 5481, 3381, 3401, 0051, 1571, 0201, 0951, 1091, 1491, 1651, 1831, 1881, 1961, 2151, 2711, 2801, 3431, 3551, 3771, 4691, 4781, 4861, 5201 |
| Philco | 0001, 0251, 0321, 0961, 1021, 1221, 1671, 1801, 2941, 1961, 2151, 2321, 3431, 3931 |
| Philips | 3031, 3131, 2891, 1741, 3151, 3171, 3371, 3391, 0181, 0001, 0161, 0321, 0421, 0701, 0791, 0541, 0661, 0911, 0961, 1021, 1151, 1171, 1381, 1391, 1601, 1801, 1961, 2151, 2321, 3431, 3541, 3591, 3861, 3911, 3971, 3981, 4191, 4761, 4791 |
| Philips Magnavox | 0181, 0681, 0911, 1171, 1961, 2321, 3591, 4791, 4991 |
| Pilot | 0001 |
| Pioneer | 0001, 0401, 1221, 1371, 1981, 1511, 1841, 4021, 4661 |
| PIVA | 2411, 5021 |
| Planar | 4251 |
| Polaroid | 0191, 0581, 1241, 2081, 2271, 3741, 2311, 2401, 2451, 4631, 5131 |
| Portland | 0001, 0251, 1011, 1081, 1221, 1551 |
| Precision | 0621 |
| Price Club | 0351 |
| Prima | 3011, 0381, 0581, 0631, 0871, 2451 |
| Princeton Graphics | 1301, 1441 |
| Prism | 0051 |
| Proscan | 0261, 0811, 1421, 1691, 2061, 2301, 3421, 4011 |
| Proton | 0001, 0391, 0641, 1221, 1911, 2231, 4211, 4221, 4271 |
| Protron | 3731, 4301 |
| Proview | 2401, 2421, 2431 |
| Pulsar | 0001, 1771, 1781 |
| Pyle | 3331 |
| Quasar | 0051, 0201, 1091, 1491, 1571, 1831, 1881, 1961, 2151, 3431, 3551, 4691, 5201 |
| Radio Shack | 0001, 0141, 0341, 0931, 1421, 1001, 1221, 1261, 1571, 1691, 1701, 1911, 1941, 2111, 2191, 3421, 3551, 4731, 4921 |
| RCA | 0001, 0051, 2891, 1741, 0091, 0141, 0251, 0261, 0361, 0551, 0811, 0891, 1001, 1131, 1221, 1331, 1371, 1421, 1521, 1691, 1851, 1921, 2011, 2061, 2111, 2151, 2251, 2301, 2851, 2951, 3421, 3431, 3571, 4011, 4921 |
| Realistic | 0001, 0141, 0341, 0931, 1001, 1221, 1261, 1421, 1571, 1691, 1701, 1911, 1941, 2191, 3421, 3551, 4731 |
| Rhapsody | 0011 |
| Roku | 2891, 1741 |
| Runco | 1771, 1781, 1841 |
| Sampo | 0001, 0121, 0391, 0501, 1221, 1911, 4221 |
| Samsung | 5471, 5521, 3301, 3321, 2741, 2961, 0331, 0001, 0101, 0251, 0261, 0351, 0531, 0571, 0711, 0781, 1191, 1221, 1311, 1501, 1911, 2071, 2141, 2721, 3471, 3561, 4011, 4941, 4961 |
| Samsux | 1221 |
| Samtron | 0351 |
| Sansui | 5551, 0211, 0371, 1631 |
| Santeca | 0171 |
| Sanyo | 2981, 2891, 1741, 2991, 3051, 5251, 2871, 5241, 5261, 0001, 0801, 1051, 1161, 1261, 1531, 1581, 1911, 2881, 3481, 5001 |
| Sceptre | 3521, 4071, 5111 |
| Scotch | 0001, 1221 |
| Scott | 3215, 0001, 0021, 0281, 1221, 1711, 1941, 2191, 5141 |
| Sears | 0001, 0211, 0261, 0351, 0701, 0811, 1221, 1311, 1261, 1291, 1381, 1421, 1531, 1581, 1691, 1711, 1911, 1961, 2021, 3421, 3481, 4011, 4761 |
| Selectron | 2471, 2491, 2501 |
| Semp | 3611 |
| Sharp | 5421, 3181, 2891, 1741, 3191, 3201, 2731, 0001, 0341, 1221, 0461, 0681, 0691, 1291, 1441, 2031, 2201, 2261, 3461, 4751, 4991 |
| Shogun | 0001 |
| Signature | 1421, 1661, 1691, 2171, 3421 |
| Signet | 2811, 2821, 2861 |
| Simpson | 0961 |
| Sonic | 0011 |
| Sony | 5321, 1071, 1641, 1731, 1901, 2161, 2741, 3531, 3891, 4101, 4981 |
| Soundesign | 0001, 0961, 1221, 1711, 1941, 2191 |
| Sova | 3631, 4431 |
| Soyo | 4611, 5101 |
| Spectra | 1611 |
| Spectravision | 2341 |
| Squareview | 1381 |
| SSS | 0001, 1941, 2191 |
| Star Sight | 0061 |
| Starlite | 2191 |
| Superscan | 0701, 1291, 2021, 4761 |
| Supersonic | 0241, 4701 |
| Supra | 0001, 1991 |
| Supremacy | 0151 |
| Supreme | 1901 |
| SVA | 0671, 2101 |
| Sylvania | 0001, 0321, 0371, 0701, 0931, 0961, 1801, 1021, 1221, 1381, 1821, 1961, 2321, 2761, 3701, 4731, 4761 |
| Symphonic | 0021, 0701, 0931, 1381, 2191, 4731, 4761 |
| Syntax | 2431, 5151, 5161 |
| Tandy | 1441 |
| Tatung | 1141, 1741, 2151, 3431 |
| TCL | 2851, 2891, 1741, 0091, 1421, 1691, 1851, 2011, 2061, 2111, 2301, 3421, 3431, 3571, 4921 |
| Technics | 0051 |
| Techwood | 0001, 0051, 1221 |
| Teknika | 0001, 0151, 0251, 0351, 0961, 1011, 1221, 1311, 1421, 1571, 1661, 1691, 1711, 1911, 1941, 2191, 3421, 3551 |
| Telecaption | 0821 |
| Telerent | 1421, 1661, 1691, 3421 |
| Tera | 0001, 0641 |
| Tevion | 1141 |
| TMK | 0001, 1221 |
| Toshiba | 5531, 3211, 1311, 0211, 0231, 0341, 0351, 0821, 1121, 1261, 1351, 1541, 1191, 1571, 1621, 1801, 1841, 1911, 2691, 3551, 4891, 4941, 5081 |
| Trutech | 2461, 3821, 4551 |
| Universal | 0791, 1951 |
| Venturer | 3781 |
| Victor | 1481, 4121 |
| Videocon | 4061 |
| Vidtech | 0001, 0251, 1221 |
| View Sonic | 5301, 0501, 1981, 3751, 3801, 4281 |
| Viking | 0151 |
| Viore | 5431, 2831, 2841, 3681 |
| Visteon | 3411 |
| Vizio | 5561, 5571, 5581, 5591, 5601, 5611, 5621, 5631, 5671, 5641, 5651, 5661, 5681, 5691, 5701, 5711, 2901, 1471, 1741, 2021, 3651, 3741, 3851, 4081 |
| Wards | 0001, 0021, 0251, 0321, 0341, 0791, 0961, 1021, 1221, 1421, 1661, 1321, 1691, 1711, 1951, 1961, 3421 |
| Westinghouse | 3241, 2891, 1741, 3251, 0111, 1901, 2281, 3711, 3851 |
| White-Westinghouse | 0601, 0931, 1081, 1521, 1501, 1551, 3641, 4731 |
| Yamaha | 0001, 0251, 1221, 1571, 3551 |
| Zenith | 5281, 5271, 0001, 0061, 0131, 0371, 0681, 0691, 0931, 0941, 1011, 1031, 0991, 1081, 1171, 1181, 1191, 1221, 1631, 1251, 1271, 1471, 1661, 1751, 1771, 1781, 1791, 2171, 2291, 3501, 4201, 4321, 4731, 4751, 4941, 4791, 4991, 5211 |
MULTI-DEVICE CONTROL – Operate up to three extraordinary Audio and video factors such as TVs Blu-ray/DVD gamers cable/satellite receivers Roku packing containers and different streaming media gamers Soundbars and more
BEST REMOTE CODE LIBRARY – This universal remote works with all principal brands and Supports heaps of the brand new audio/video equipment
Does now not work with Roku streaming stick fire TV stick or different RF streaming devices
SIMPLE SETUP – This remote comes preset for Roku and Samsung TVs and consists of an convenient to observe online video offering trouble-free setup and a grasp quantity manipulate permitting you to manipulate the quantity no remember what machine you are operating
SATISFACTION – Call our crew of specialists for free US-based technical assist with any questions or problems about your buy (contact facts can be located in the User Manual or on the lower back of the packaging)
GE Universal Remote new three-digit Codes guide setup Instructions
Enter system into setup mode
Locate the SETUP button on the GE universal remote control, Press and keep the setup button until you see crimson mild is on. then cease conserving the setup button. now far off is in setup mode.
quickly press and launch the system button you desire to set up. For instance, if you are programming TV then press the TV button and launch it.
key the universal remote code corresponding to your system from beneath the list.
Use the range keypad to enter the normal remote code. Now pink mild will turn off.
point the GE Universal remote in the path of the machine and attempt to turn on and off the device. if the system responds to your all set.  In any other case, repeat the steps of the usage of subsequent 4 digit code from beneath the list.
Setting up different devices.
repeat the above steps to set up greater devices.
FAQ
Q1.What Are The Universal Remote Codes For All Devices?
Universal remote control codes for all units are given above. You can locate your system brand from that universal remote codes list.
Q2.How Does Universal Remote Work?
Universal remotes normally work on infrared technology. A beam of IR emitted from the give-up carrying commands. When the receiver gets that beam, it executes the command. You first want to apply that gadget with universal remote control codes.
Q3.Does A Universal Remote Control Work On All TVs?
Yes, after making use of regular tv remote control codes, a universal remote manager can work on any tv.
Q4.Do Universal Remotes Work Even On Old Stereo Receivers?
It depends on how historical it is. If it is no longer so historic and can observe control signals, then all set. Just program with accepted remote control codes to play it accordingly.